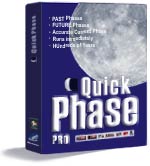 Version 3.3
current user access
QuickPhase Pro - Free Trial Download

Would you like a FREE 3-day trial of QuickPhase Pro, with ALL features fully enabled? Just click the link below.

The software is easy to use and everything is there for you to see and evaluate immediately. Just visit the sales page again if you need a review on what the software features are. It's all listed there. Tip: Click the white "Date & Time" label at the top to enter other dates (it's often overlooked).

After 3 days, the software will only show you the activation screen. You will then need to enter a license number to continue. To obtain a license number (and get all the free bonus gifts), simply purchase a license on the sales page ... or you will also see a purchase link inside QuickPhase Pro on the activation screen. Your purchase is fully guaranteed for 90 days so you still have plenty of time to try out and evaluate the software, not just 3 days.

You can purchase a CD or the Download option. Either way you will get a license number sent to you by email. Obviously you don't need to download the software again after purchase... you can simply grab the bonus downloads.

Ok ... on to the FREE Download...

Read First: After downloading the file, you should move it to your desktop. Why? Because it is not an install file; it is the program itself. Just double click the QuickPhase file icon to run QuickPhase Pro. Running the file will NOT add anything to your Program Files, and will NOT create a shortcut to your Start Menu. You can move the file wherever you want on your computer.



File: "QuickPhasePro.exe", Size: 2.7 MB

System Requirements:
Windows Only (98, Me, NT, 2000, XP, Vista, 7, or 8)



Tip: You can RIGHT-CLICK the link above to get a popup menu; then choose "Save As..." or similar option to control where the file is saved. Again, your Desktop is probably the best location.

Note: After purchasing, if you desire... you will see in the member download area a traditional "install" file that you can use to install QuickPhase Pro shortcuts in your Program Files or Desktop/etc.