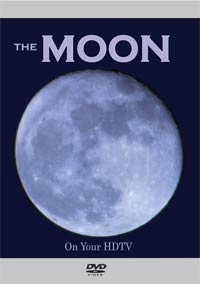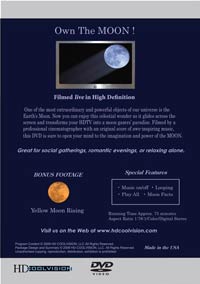 NEW: For HDTVs / Flat Screen TVs ...
Transform Your HDTV Into A Moon Gazer's Paradise
The Real Rising MOON Filmed LIVE, Hypnotic and Spectacular - NO Computer Generated Images Here Join the HDTV revolution! Your flat panel TV can do a lot more than play movies and television shows! When your TV is off, a large, unappealing black void remains on the wall. But with this DVD you can transform your HDTV into a moon gazer's paradise. Now you can enjoy the celestial wonder of the Moon as it glides across the screen in a beautiful scene of the rising moon. Live footage of the moon filmed by a professional cinematographer with an original score of awe-inspiring music, this DVD is sure to open your mind to the imagination and power of the MOON. BONUS: Yellow Moon Rising
SPECIAL FEATURES: Moon facts, Play all, Looping, Music on or off
USER Friendly Menu "The MOON" DVD is GREAT for:
Social Gatherings
Romantic Evenings
Sleep Aid
Background Art
Meditation, Moon Enhancement, Tranquility

(...or if you just want to show-off your HDTV!) Also Great for Businesses: Spas, Physician and Dental Offices, Yoga Classrooms, Clubs and more… Your copy is licensed for up to four screens at a single location! A Great Gift Item! It is best viewed on High Definition flat panels and flat screen TVs, but it also works on computer monitors.
100% Money Back Guarantee
We know you will love this DVD and how the Moon transforms your otherwise idle HDTV screen, or return it within 30 days for a full courteous refund. This guarantee effectively converts your purchase into a 30-day risk free trial. So you have nothing to lose!
Specifications:
TITLE: The MOON: (Filmed Live in HD) (2009)
Format: 16:9, Color, Digital Sound, DVD-Video, Widescreen, NTSC, High Definition
Language: English
Region: Region 1
Aspect Ratio: 1:78:1
DVD Release Date: April 24, 2009
Number of discs: 1
Run Time: 74 minutes
UPC# 884501133685
Sorry, this item is no longer available.